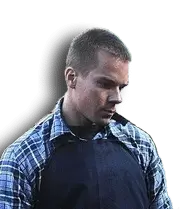 JAN CHODKIEWICZ
SWORDSMITH FROM GDANSK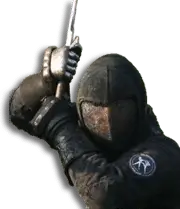 I found the Corona Feder extremely satisfying to handle, it is, in my experience, my favorite training longsword. An extremely durable Sword, strong on bindings and parries, while at the same time relatively light for its dimensions and extremely responsive. The Corona is safe for sparring and competitions, while I would advocate to always go for the more flexible blade option while practicing a thrust oriented style with explosive footwork.
An extremely good training sword.
I use Ensifer Feders for years and I love the high quality and durability. Those Feders can withstand years of heavy use. Thick edge is nick resistant, flex is nice and safe, beautiful finish and details. The Kron 2020 is amazing, the balance, point of rotation, it goes smooth and almost by itself!
The sound it makes like a pitchfork when striking into another feder also the woosh sound as you cut midair, you just can't have enough of it <3
If I could I would buy Kron 2020 in every color, size and fill a whole big cabinet of those Feders.!
I love seeing good people succeed. Especially in the small sword fighting community that is HEMA. There's not a lot of money in HEMA, so it's tough finding good quality gear, and even harder finding quality service. They're out there though, and should be celebrated and emulated.
Jan Chodkiewicz, the proprietor and forge master of Ensifer is quality. I messaged him today if he received the payment for a multiple sword club order. He's like yeah i got it already, so I sent that out yesterday. Here's your tracking number. Wow.
In addition to amazing service (responding quickly, sending emails with detailed answers and even pictures to questions, fast shipping), his swords are an incredible deal for quality craftsmanship that does yeoman work in the ring. Plus they're pretty ?
If you need a sword, I highly recommend an Ensifer, and in doing so supporting Jan.
For years I was waiting for a good training sword. I've tried many but when I saw REDD and I took it into my hand, after a seconds I was sure I found a perfect one. This is masterpiece. Made with passion and huge knowledge about weapons.
If sword could fence itself, that could be only REDD.
Great for training, great for tournaments, great looking ( red – colour of kings).
I'm a HEMA instructor and I exactly new what I was looking for to train my group.