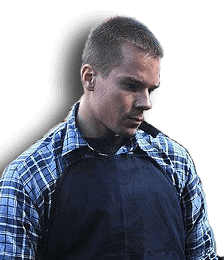 Jan Chodkiewicz

SWORDSMITH FROM GDAŃSK
For 15 years professional swordsmith – from Latin – ensifer – a manufacturer of edged weapons.
Graduated from the Faculty of History at the University of Gdańsk (2005). A student of the Gdańsk blacksmith master Remigiusz Bystrek, who in turn was educated by the famous Gdańsk blacksmith Franciszek Zulewski and Christoph Friedrich from Switzerland. Blacksmith of artistic products – journeyman diploma – 2009, master diploma 2013.
Pomorska Izba Rzemieślnicza
Master craftsman of an ornamental blacksmith
Lubelska Izba Rzemieślnicza
Journeyman – Ornamental Blacksmith
CD Projekt Red • Fechtschule Gdańsk • ARMA Warszawa • ARMA Wrocław • Freifechter • ARMA Poznań • ARMA Bielsko Biała • ARMA Kraków • Krakowska Szkoła Fechtunku • Vectir • Akademia Broni • Lorica • Akademia Szermierzy • Szkoła Szermierki GRYF • Rebellium • Trnavský Sermiasky Sech • ACEA • GHSF • OCHS • Kunst des Fechtens • Blood and Iron • The Forge • London Longsword Academy • Cork Blade nasters • Order of Zephyr • Vor&Nach Society • and more…