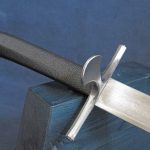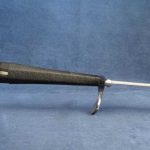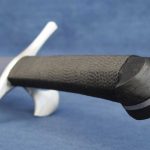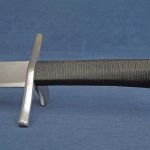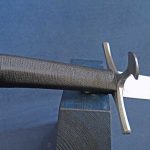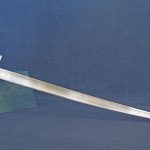 Ultra-light broad and hollow grinded blade for messer fencing. Basic model with a historically accurate PoB and still meeting safety standards. Thick (6 mm!) blade allows for practicing and sparring with other heavier weapons.
Overal Lenght – 90 cm,
Blade Lenght- 70 cm,
Weight ~ 850 g,
Basic blade thickness – 6mm
Basic blade width – 39 mm
PoB 11 – 11,5 cm,
Blade Flex  ~ 14 kg
Loading...
1-year warranty for blade breakage*
Light, safe, hollow grinded blade
Blade curvature: 5 mm
2–3 mm rounded edge – 50HRC hardness
Very durable, integrated nagel (side guard)
Hardnened guard
Historically accurate PoB – close to originals but still safe to fence
Fine-crafted and safe crossguard ends
Thick scales helps a lot to firm grip your weapon
Safe, thick ( 6mm) unbreakable solid tip
* Every blade is checked a few times during production to avoid mistakes. We give 1 year warranty for breakage not every bend. We can also replace swords which bend on first use/sparring (and I do that without a problem) but after a few months of using and sparring minor bendings are normal thing when forces are too big. We can make it straight in our workshop, but we do not cover shiping cost. Frankly it is a minute of work and 80 % chances to finish it with foot and floor. Straightening the blades are common on every sport fencing training:
1. Learn to properly thrust with feder and use its blade flexibility – hands up when you are hitting.
2. Cut with proper edge alignment and avoid full force cuts to rigid targets – like Strong of partner blade/crossguard – if he parries your Weak just hit to his Strong – applying force does not work for you.
3. Avoid charging to each other in sparring – it may easily generate huge forces which can bend the blade.
| | |
| --- | --- |
| Weight | 1200 g |
| Dimensions | 92 × 15 × 10 cm |
| Colour | |
| Version | Left handed, Right handed |