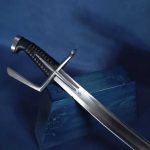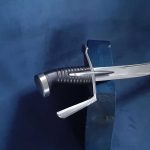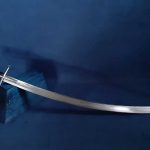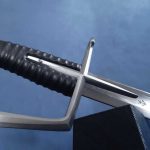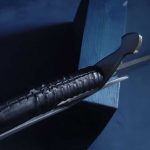 Pocztowy ("retainer") was an equivalent of private in the ranks of the Polish winged hussars between the 16th and 18th centuries. The sharp version of this sabre is a fully functional replica.
Only sharp version
Total length: 95 cm
Blade length: 83 cm
Grip length: 12 cm (leather)
Blade curvature: 4–7 cm
Blade thickness: 2–7 mm
Edge thickness: sharp
Weight: ~ 760–780 g
PoB: 17–16.5 cm
Blade flex: ~ 8 kg
Loading...
Sharp edge.
False edge
Leather covered grip, hand stiched
Hardened Knucklebow
Spring steel blade with broad and narrow fuller
Around 50 HRC blade hardness
Inox steel cap