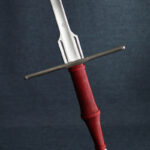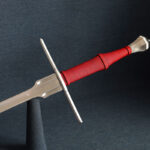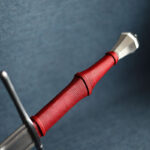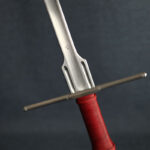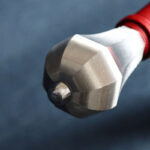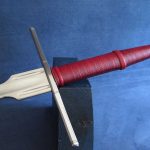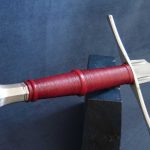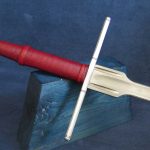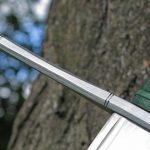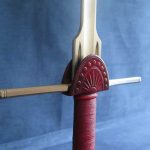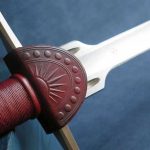 REDD feder – the finest version of our 2020 line. An elegant and well-rounded training weapon.
If you would like to see it in higher resolution please visit our BLOG.
REDD REGULAR


Overall length: 126 cm




Blade length: 95 cm




Weight:  1380- 1450 g




Flex – 14- 16 kg




PoB –  7 – 8 cm




CoP – 60 cm




FPP – 93 cm




Blade hardness ~ 50 HRC




Crossguard ~ 45 HRC

REDD LONG


Overall length: 133 cm




Blade length: 100 cm




Weight:  1550 – 1580 g




Flex – 14- 16 kg




PoB – 7 – 8 cm




CoP – 62 cm




FPP – 96 cm




Blade hardness ~ 50 HRC




Crossguard ~ 45 HRC
Loading...
Premium Cord Wrap is available now. High quality resin and cord gives secure grip. Your Redd handle is much more durable with these wrap.
1- year warranty for blade breakage but not for minor bending*
Light and flexible hollow grinded blade with short fullers on the schilt
Historically accurate Pivot Points (FPP – 93 cm from cross)
Fine-crafted and very durable hardened crossguard (~45 HRC)
Double-peened crossguard to secure it from loosening
Solid, unbreakable proper rounded tip
Very durable rounded edge – 6 to 4 mm thickness, 50 HRC
Safe crossguard endings
Fine-crafted grip with custom colour leather wrap (vegetable tanned)
Bees-wax coat grip finish
Delicate and handcrafted notches on the crossguard and pommel
Hot-peened octagonal acid-resistant steel pommel
* Every blade is checked a few times during production to avoid mistakes. We give 1 year warranty for breakage not every bend. We can also replace swords which bend on first use/sparring (and I do that without a problem) but after a few months of using and sparring minor bendings are normal thing when forces are too big. We can make it straight in our workshop, but we do not cover shiping cost. Frankly it is a minute of work and 80 % chances to finish it with foot and floor. Straightening the blades are common on every sport fencing training:
1. Learn to properly thrust with feder and use its blade flexibility – hands up when you are hitting.
2. Cut with proper edge alignment and avoid full force cuts to rigid targets – like Strong of partner blade/crossguard – if he parries your Weak just hit to his Strong – applying force does not work for you.
3. Avoid charging to each other in sparring – it may easily generate huge forces which can bend the blade.


| | |
| --- | --- |
| Weight | 2200 g |
| Dimensions | 135 × 30 × 6 cm |
| Colour | |
| Grip | |
| Length | |
| Handle wrap | Fine Leather, Premium Cord |